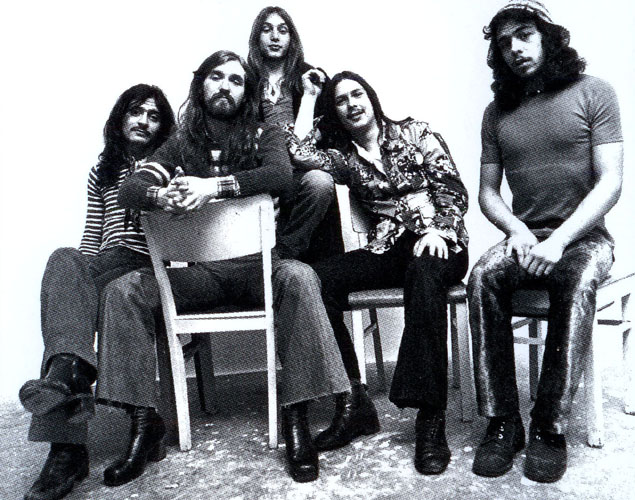 Цитата:
Formed in Berlin in 1970, with roots going back to 1968 and the duo Blues Machine consisting of Joey Albrecht (guitar, vocals, from Hannover) and Gerald Luciano Hartwig (bass). The musicians of Karthago came from all over Germany and from various backgrounds, like Thomas Goldschmidt of Bolivian ancestry, adding a unique multi-cultural feel. Thus they were not a true Berlin band. Strongly inspired by British and American bands, Jimi Hendrix was a notable influence, but more so they were into the type of rock fusion garnered by CBS (like Chicago Transit Authority, Argent, Black Widow, Heaven, etc.). Karthago developed a more mainstream style than most Berlin acts, with strong songs, jazz and funk elements, backed up by excellent musicianship. Often they were much more Anglo-American sounding than German.

It would seem that BASF were really pleased to sign Karthago up, as their debut LP had the most extraordinary multi-fold-out cover. The album was a fine example of the genre, with many excellent tracks, yet unbefitting such crazily psychedelic artwork! It obviously wasn't such a great success though, as it took two and a half years for the aptly entitled SECOND STEP to appear, and then there was another lengthy gap till their third. With each album the Karthago sound was becoming less progressive and closer to mainstream rock, though it seems they never gained any greater success due to this, not even when ex-Jethro Tull (and Wild Turkey) bassist Glenn Cornick expanded the international make up of the band. A live double album summed up most of the best material from this era, with some tracks greatly extended.

Most of the musicians in Karthago went on to work in other bands, Ingo to Kraan and Guru Guru, Gerald to Embryo, Tommy to RMO, etc., whilst Joey Albrecht refused to give up the ghost and reformed the band on at least two occasions.

The Crack in the Cosmic Egg
Karthago - Second Step, 1973 [2011, Made in Germany MIG 00592]
Album:
Second Step
Year:
1973
Label:
Made in Germany, 2011
Format:
RAR(+3%) Flac(separate)+HQ SCANS
Size:
428 Mb
Source:
my CD collection
Line-up/Musicians:
Ingo Bischof - organ, piano, clavinet, synthesizer, vocals
Norbert Lehmann - drums, percussion
Gerald Hartwig - bass, vocals
Joey Albrecht - vocals, Guitar
Tommy Goldschmidt - percussion
Tracklistings:
1. Pacemaker (2:44)
2. I Don't Care (5:46)
3. Crosswords & Intermissions (6:44)
4. Don't Send Me Your Money, Send Me Your Heart (5:15)
5. Wild River (5:28)
6. Lamento Juvenil (Start to Fight) (3:49)
7. California Gigging (3:05)
8. Oberbaum Bridge (7:37)
Bonus Tracks:
9. Johnny B. Goode (2:39)
10. Going Down (3:45)
Releases information:
LP BASF 20 21780-9 (1973, DE)
LP Polydor 2459 068 (1976, DE)
LP Brain 40.088 (1979, DE)
CD Germanofon 941087 (1996, Luxembourg)
CD Repertoire PMS 7071-WP (1998, DE)
CD Made in Germany MIG 00592 (2011, DE)
YandexDisk:
[
Ссылки могут видеть только зарегистрированные пользователи.
]