Цитата:
Ardo Dombec originated from Hamburg, with their roots going back to the mid-1960's beat band Liquid Sound, becoming Ardo Dombec in late-1970. Reputedly, they soon caught the attention of Rolf-Ulrich Kaiser who signed them up to record an album for his Pilz label.

Really, Ardo Dombec were hardly normal Pilz label fare, being a heavy, bluesy and slightly jazzy rock, with the accent on songs rather than instrumentals, and barely did they sound German. Undoubtedly they were inspired by the late-1960's work by American bands like Chicago Transit Authority or Blood Sweat & Tears (as obviously were Creative Rock and Emergency). The LP was a fine example of the genre, sporting two very different singers, and with surprising instrumental depth in the arrangements for a four-piece band. Obviously a great deal of multi-tracking was going on! The album's most notorious moment is the painful "five second scratch" joke track "Oh, Sorry" and it is also famous for its rather dangerous looking "bloody cactus in an ice-cream cone" cover!

Totally out of character, their contributions to the HEAVY CHRISTMAS concept sampler showed them at their instrumental best - radical and full of invention, pure jazzy Krautrock, towards the realms of Thirsty Moon or Kollektiv. They also recorded a single for Pilz (unreleased, but included as a bonus on the CD reissue) and worked (uncredited) as the backing band for recordings by Marcel Schaar and Elga Blask.

Even after playing a prestigious support slot to East Of Eden, by 1972 the band decided the special spark had gone, and they split up for good.

The Crack in the Cosmic Egg
Ardo Dombec - Ardo Dombec, 1971 [2002 GoD CD 066]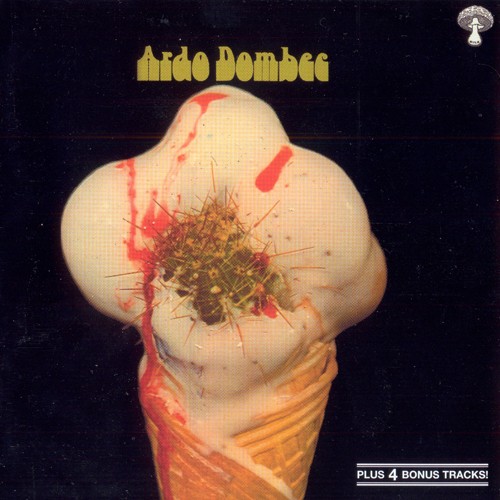 Цитата:
Единственный альбом группы. Классический немецкий околоджазовый прог. Не слишком тяжелый, не слишком грубый и не слишком энергичный, но и не слишком мягкий. Не особо наворочено, но симпатично. В общем, всего в меру. Сакс и флейта красивые. На твердое "4" вполне тянет.

Lex
Album:
Ardo Dombec
Year:
1971
Label:
Garden of Delights
Format:
RAR(+3%) Flac(separate)+HQ SCANS
Size:
424 Mb
Source:
my CD
Line-up:
Helmut Hachmann - Sax, Flute
Harald Gleu - Guitar, Vocals
Wolfgang Spillner - Drums, Vocals
Michael Ufer - Bass
Tracklist:
1. Spectaculum (4:02)
2. Supper Time (3:19)
3. A Bit Near The Knuckle (4:32)
4. Clean-Up Sunday (6:50)
5. Downtown Paradise Lost (5:52)
6. Oh, Sorry (0:08)
7. 108 (4:36)
8. Unchangable Things?! (5:58)
Bonus tracks:
9. Heavenly Rose (3:54)
10. Open The Door, Open Your Mind (2:11)
11. Young And Strong (3:15)
12. Riverside (4:15)
Tracks 1 to 8 were released as Ardo Dombec in 1971.
Tracks 9 and 10 are taken from Various - Heavy Christmas.
Tracks 11 and 12 are previously unreleased.
YandexDisk:
[
Ссылки могут видеть только зарегистрированные пользователи.
]