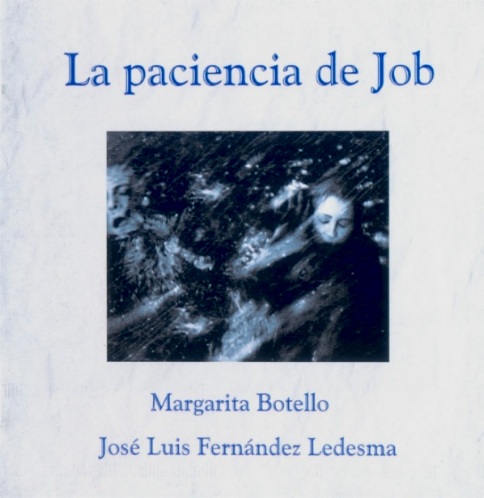 Artist: Jose Luis Fernandez Ledesma & Margarita Botelho
Album: La Paciencia De Job
Year: 2006
Label: Musea
Country: Mexico
Style: Progressive rock
Genre: Avant-prog, Chamber rock, RIO
Format : ape (image), with log ,cue ,md5 ,audiochecker & full artcover
Size : 367 MB (4 % recovery)
José Luis FERNÁNDEZ LEDESMA is a big name in the Mexican avant-garde musical scene. He is acknowledged as an adventurous creator and a proficient musician: his performing skills include guitars, keyboards, various ethnic wind, string and percussion instruments, something like a Mike OLDFIELD with a RIO heart. His first steps in the world of prog took place in NIRGAL VALLIS, a band contemporary of ICONOCLAST and others, that never got to release a proper LP. After the band disbanded, FERNÁNDEZ LEDESMA began his solo venture determined to explore his unique musical vision. Singer/keyboardist Margarita BOTELLO is his recurrent partner in almost all his records. His music has been publicly eulogized by Chris CUTLER, as stated in the liner notes of the "Sol Central" album. In early 2007 he began the SAENA project, a symphonic prog band formed by veterans (just like him), but his solo career remains active.
The writing and arranging modus operandi for FERNÁNDEZ LEDESMA's material is profoundly based on atmospheres, going from the ethereal to the somber and from the dreamy to the inscrutable, always dense and mysterious, at times colorful, other times grayish. The combination of acoustic and electric instruments bears enough amounts of mixing console processes as to make the original sounds go somewhere else. Instead of using traditional instruments according to the standards of fusion and prog-folk, what FERNÁNDEZ LEDESMA does is incorporate these ancient items as parts of the sonic amalgam that would match his modernistic vision. Influences range from krautrock (POPOL VUH, CAN, early 70s TD) to RIO (ART BEARS, HENRY COW, UNIVERS ZERO), as well as the avant-garde chamber music pioneered by Cage, Stockhausen and others. "Al Filo" comprises a dominant sinister tendency, while "Sol Central" displays a more developed sense of colorfulness. Albums such as "La Paciencia de Job" and "Híbridos" may lean closer to one trend or another. "Designios" stands out as a special exception to the rule, since its repertoire is a venture in the fields of symphonic-meets-folk prog, in this way exposing a not-so-usual melodic side of FERNÁNDEZ LEDESMA - it includes new versions of two old NIRGAL VALLIS tracks. Through the years, he has created music for theater, contemporary ballet and documentary films, and collaborated with other avant-garde artists (ALQUIMIA, OXOMAXOMA, etc.). Additionally, he works as a sound engineer and producer.
JOSÉ LUIS FERNÁNDEZ LEDESMA's recordings are definitely a must for all lovers of avant-garde music dominantly based on mysterious atmospheres and dense ambiences. His music is real sonic painting, more than conventional music.
Tracks
1. Leyenda (8:03)
2. Naufragio (8:17)
3. Jardin de los Senderos (8:48)
4. Palabras Como Astros (7:04)
5. No te Pude Contestar (3:47)
6. Los Jueces del Mundo (11:04)
7. Vidas Atras / Noche (11:43)
8. Donde Nadie (1:25)
9. Paciencia Infinita (9:28)
- Jose Luis Fernandez Ledesma ==> electric, acoustic & 12-string guitars, synthesizers, grand & electric pianos, bass, lute, vihuela, harmonium, flute, melodica, xylophone, darbuka, ethnic woodwinds and percussion, vocals, electronic processes
- Margarita Botello ==> vocals, piano, santur, harmonium, percussion, ocarinas, synthesizer
Guest musicians:
- Gustavo Albarron / French horn
- Juan Carlos Ruiz / bassoon
- David Ball / bassoon
- Alejandro Sanchez / violin
- Ramon Nakash / violin
- Vitali Roumanov / cello
- Ediardo Melandez / baritone sax
- Carlos Bonequi / drums
Progarchives:
Цитата:
I regard this album as one tremendous JLFL masterpiece: La Paciencia de Job is a catalogue of spectral textures and ethereal ambiences, all of them craftily delivered through splendid instrumental settings. The album's overall vibe stands somewhere between the mysterious elaborations of Al Filo and the colorful weirdness of Sol Central, but clearly leaning more toward the former. The use of Precolombine, North African and Eastern percussions and woodwinds helps to build up nameless sonorities through the keyboard layers, guitar adornments and console adjustments helps to build up exotic sonorities - this repertoire stand on the boundaries of wake and sleep, like something partially surreal that makes its way into the grey margins of reality. The subtle, absorbing colors displayed in 'Leyenda' seem to announce the arrival of dawn for our conscience: this piece portrays a strange mixture of somber and candid atmospheres. A very good entry whose spirit is perpetuated and enhanced by 'Naufragio' during its first 5 minutes and its last 2: in between these sections, a piano interlude brings a moment of sheer serenity. 'Jard?n de los Senderos' and 'Palabras como Astros' still go on exploring the spirit of limbo that had been so effectively introduced by the first 2 tracks. The latter includes the beautiful chanting by Botello, singing a poem by Vicente Huidobro - in this way, the track acquires an extra touch of solemnity. 'No Te Pude Contestar' sees the first appearance of the drum kit, which bring a pulsational drive to the overall scheme based on exotic cadences - this is not too far away from the implacable standard set by classic Can (Ege Bamyasi and Future Days). 'Los Jueces del Mundo', the album's first epic, also includes drum kit, but this time things become more explicit, more pompous if you will. This track clearly bears a sinister aura, with the guest violin and soprano sax taking center stage at the track's dramatic peaks. Botello also delivers pertinent vocal lines through the viscerally articulated instrumentation, very much in the vein of Dagmar-era Henry Cow and Art bears. The apocalyptical lyrics are inspired by the Irak war, so it's no wonder that the track's spirit is so full of doom. The dual track 'Vidas Atr?s / Noche' is the other epic. It gets started with a series of layer set on tribal mood, with soliloquy sounds and guitar adornments bizarrely processed in a lunatic climate. When the climax arrives, things get really oppressive, and when the aforesaid climax is over, an air of mysterious solemnity arrives incarnated by the combination of keyboard layers, guitar soundscapes and cello washes. The piano emerges to create a special dialogue with the cello, in this way making the solemnity more appalling. 'Donde Nadie' is the shortest track, with a noticeable Arabic inspiration. The dueling violin, sax and female chanting is a main feature in this track. Ultimately, 'Paciencia Infinita' retakes the aura of crepuscular, dreamy ambiences that had been so prominent in the first four tracks. The piano takes center stage at times, occasionally joined by the bassoon, guitar and Botellas' singing. This is not an easy listening album, this is a musical work firmly loyal to the ideals of experimentalism, yet it remains captivating as a creation of magic touch. La Paciencia de Job is a jewel ready to be appreciated by true avant-garde music lovers.